Navigating a Secure Future: Insights from Black Hat USA 2023
By Gina Yacone, Trace3 Advisory CISO, Mountain States Region
At Black Hat 2023, Generative AI took center stage with 30 talks focused on its role and implications. AI is undoubtedly revolutionizing cybersecurity, promising advanced protective tools. Yet, like all technological advancements, challenges loom. The same AI capabilities bolstering defense are also potential tools for cyber adversaries. As industry experts evaluate AI-driven tools, our community is actively strategizing against AI-powered threats. Today's evolving digital landscape demands responsible AI utilization.
However, AI wasn't the sole highlight. A significant discussion involving CISA Director Jen Easterly and Ukraine's Cybersecurity Chief, Victor Zhora. Easterly discussed the U.S.'s cybersecurity challenges, citing incidents like the Colonial Pipeline. She emphasized the importance of collaboration, resilience, and a unified approach to anticipating and defending against threats.
While the central booths attracted much attention on the vendor floor, I wanted to explore the expo hall's perimeter. It's where startups displayed their view on cybersecurity solutions and trends.
Here are some of the key insights that emerged:
Cloud and Data Security Remains Top Priority: The emphasis on cloud and data security was unmistakable throughout the event. As digital landscapes evolve, it's becoming increasingly essential for companies to enhance their knowledge and invest in cloud and data security strategies.

Embrace Automation: Automation is now non-negotiable. It's pivotal for rapid threat detection and response, and equally critical for achieving IT operational efficiencies.

AI Beyond the Hype: Yes, there's skepticism around AI, especially with it being the latest buzzword (reminiscent of Zero Trust). But the real task is to peel back the marketing layers and understand AI's genuine potential and its present challenges.

CISOs Wearing Business Hats: The role of the CISO is evolving. With regular board interactions, tighter budgets, and increased scrutiny from cyber insurance bodies, CISOs are now wielding business strategies as proficiently as security ones.

Data Centers Aren't Extinct: While there's growing momentum towards cloud solutions like SSE, CDN, and SASE, the importance of on-premises infrastructure for certain legacy businesses must be recognized. However, the emphasis is shifting to securely moving data to the cloud.

The Compliance/GRC Conundrum: As organizations accumulate vast amounts of data at an unprecedented rate, the effectiveness and relevance of traditional SIEM systems are being critically examined. With the emergence of expansive data lakes and the overwhelming volume of data that entities manage daily, the industry wonders: how will these systems adapt and modernize to meet the new challenges and expectations?

IAM Cleanup: One noteworthy trend is the drive towards Identity and Access Management (IAM) cleanup. With the increasing emphasis on data security, and Zero Trust, organizations are realizing that a robust IAM strategy is pivotal. Mismanaged access rights or redundant user accounts can lead to significant vulnerabilities. Cleaning up IAM is about tightening security, ensuring compliance, and reducing the risk of data breaches.

Rising Stars – App Security Vendors: Interestingly, application security vendors made a significant mark this year, investing substantially for visibility. This signals a growing emphasis on securing the Software Development Lifecycle (SDLC) process.

Prioritizing Data Lake Protection: As more businesses adopt data lakes, the security of these storage solutions is paramount. Given the serious financial and reputation risks of data breaches, safeguarding these data lakes is a strategic imperative for modern enterprises.
Trace3 is proactively addressing the future of cybersecurity by attending conferences, undergoing continual training, and investing in people, technology, and processes. Our objective is to work closely with our clients, offering innovative solutions that ensure robust protection in a dynamic cyber landscape. This holistic approach ensures that businesses remain at the forefront of cybersecurity resilience.
Key Security Domains to Watch:
Cloud Security

Data Security

SOAR (Security Orchestration, Automation, and Response)

Artificial Intelligence

SSE/SASE/CDN

Evolution of SIEM

IAM Cleanup and Optimization

DevSecOps

Data Lake Security
---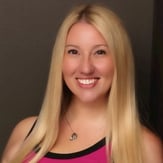 As the CISO (Advisory) for Trace3's mountain state region, Gina Yacone is responsible for developing and implementing internal cybersecurity processes and solutions, as well as advising our clients on how to safeguard their digital assets from cyber threats. She has experience as a cybersecurity consultant and vCISO, working with various industries and sectors to assess risks, design security programs, and deploy security technologies.

Gina's certifications and designations include ISACA, HITRUST, (ISC)2, and CompTIA, and she's been a subject matter expert for multiple CompTIA exams, including Security+, CASP+, and CySA+. She holds a Master of Science in Cybersecurity Policy and Risk Management from the University of New Hampshire.

Gina's mission is to help organizations protect their data, assets, and reputation from cyber threats, and to empower them with the best practices, tools, and frameworks to achieve their security and privacy goals. She's always seeking new challenges and opportunities to learn and grow, and enjoys sharing her knowledge and insights as a keynote speaker, moderator, and investor.
---