The Digitization of Industry
Industrial transformation and day-to-day operations increasingly rely on sound operational technology (OT).

Everyone, everywhere, wants faster, better, and cheaper. At Trace3, we see powerful emerging technologies that advance toward those wants. These new technologies leverage modern approaches to AI and machine learning, putting data at the center of the algorithm. This approach allows organizations to improve visibility and be more proactive—solving problems at a quicker rate and identifying responsible precursors. Capitalizing on data is the key to operational technology (OT).


What is Operational Technology?
OT consists of hardware and software that monitors, detects, and manages industrial process assets. It is the hardware and software that keeps things like factories and manufacturing equipment running efficiently and effectively.

Not to be confused with information technology, which focuses on business systems data, OT involves the physical processes surrounding people and equipment.


Why Does Operational Technology Matter?
As the manufacturing industry continues to evolve, so does the related technology. Different technologies are used for different industrial processes. Because OT detects or causes change, the proper blend of technologies is vital.

AIOps

Everything in OT stems in one way or another from Artificial Intelligence Operations (AIOps). Most industrial technology developed today features AI—and manufacturers are racing to implement sound observability and automation. AIOps, like hyper-automation or robotic process automation (RPA), offer a way for your organization to react faster and be more proactive every second of every day.

Cybersecurity

With increasing demand for intelligence related to cybersecurity, OT is able to feed related data points to enrich your organization's view of its security posture. OT then helps your security team make better decisions to address the organization's threat landscape.

Internet of Things

OT involves a prominent intersection with the Internet of Things (IoT). As IoT gains traction, how we deal with and analyze data, both real-time and off-line, is quickly becoming essential to current and future decision-making processes.

Incident Management Function

OT augments an incident management function by enriching the incident processes or Automated Incident Response (AIR). OT offers a 10-fold reduction in the time it takes to address manufacturing issues, including labor-intensive remediation, and that's money back in your pocket.

Future State

What does the future of OT look like? In five years, research shows that OT will be more prescriptive. It won't just provide data—it will provide analysis and recommendations.


How Can Trace3 Support Your Operational Technology Needs?
In order to create a system of action, Trace3 focuses on providing your business with operational outcomes. We use forward-leaning modern technology platforms that leverage embedded concepts and techniques borrowed from data science. Our approach involves a multi-stage transformational journey across six key areas in a reference architecture we call The System of Action. To learn more, Download Our Intelligent Operations Overview.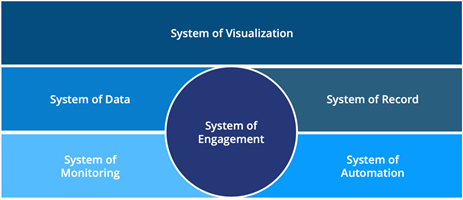 This prescriptive framework expands upon the three pillars of AIOps (observability, engagement, and automation) by creating a strategic focus around distinct functional areas: monitoring, engagement, automation, records, data warehousing, and visualization.


What is it Like to Work with Trace3?
Trace3 works with hundreds of partners—the creators of established and emerging operational technologies—to locate not only the best fit for desired business outcomes, but to solve problems that may not even be known today.

Innovation is at the forefront of operational technology. Knowing what is available, how to develop a plan of action, and how to ultimately solve your business challenges can be an exhausting process.

Trace3 will help you navigate the operational technology ecosystem. With the right strategy, we can solve any problem.


---