Migrate Your Most Critical Workloads into AWS with Confidence - Part One
By Darren Patterson |
Practice Director, Cloud Solutions Group
Trace3 has a long history of helping the Fortune 1000 and beyond succeed with their biggest initiatives in AWS. Whether you are looking to accelerate your innovation, maintain business agility, or implement cost savings through optimization, it has never been a better time to migrate your workloads to flexible AWS Cloud resources. Trace3 is uniquely equipped to help your migration succeed – from initial assessment and Cloud Adoption Framework consulting, through modernizing applications to take advantage of AWS native services.
AWS is the world's most comprehensive and broadly adopted cloud platform. Millions of customers—including the fastest-growing startups, largest enterprises, and leading government agencies—are using AWS to lower costs, become more agile, and innovate faster. From resizable compute capacity to managed relational databases, Amazon Web Services (AWS) offers more than 200 fully featured services for the Cloud.
This two-part blog - Part one covering Intro, Approach, Assess, and part two covering Mobilize, Migrate & Modernize - outlines how Trace3 approaches AWS migration and helps our clients succeed in the Cloud.
Approach
Trace3 uses the standard AWS migration phased approach that aligns with AWS Migration Accelerator Program (MAP) funding. Trace3 has broad migration coverage, but also specializes in certain aspects of each of these phases.
Assess
Mobilize
Migrate & Modernize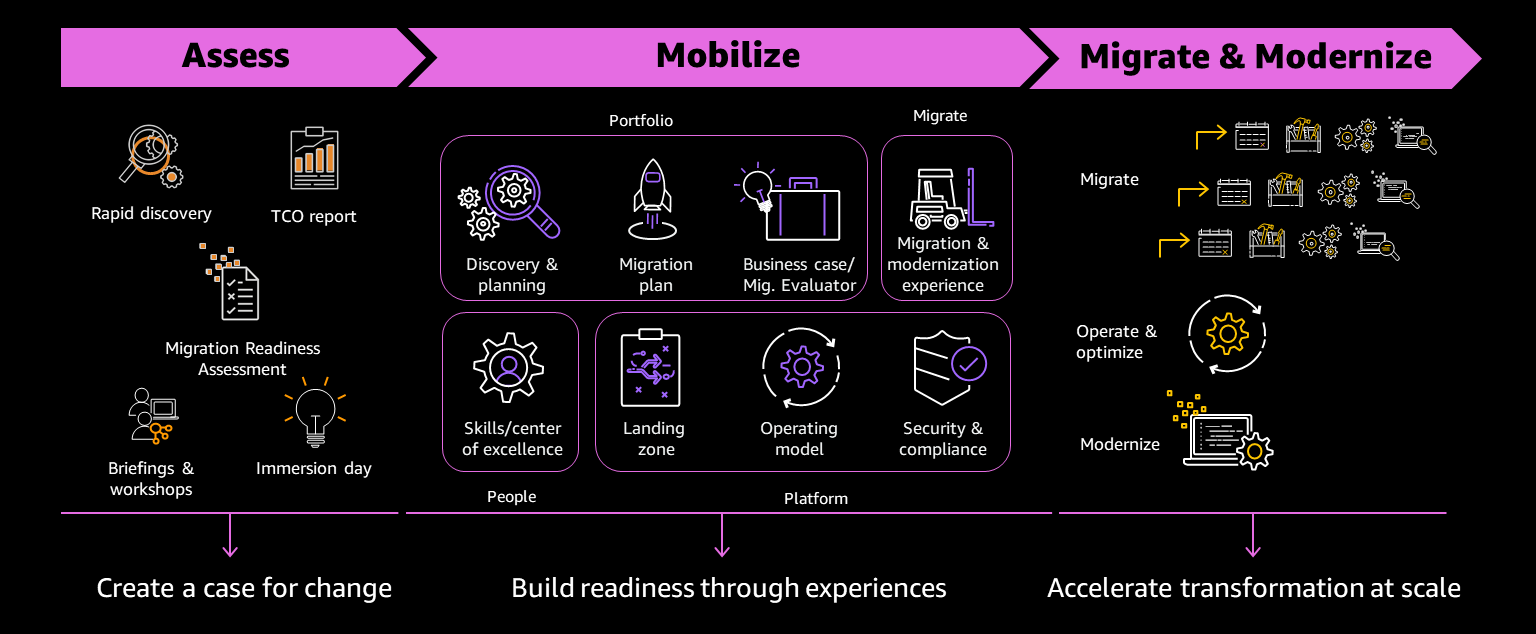 https://docs.aws.amazon.com/prescriptive-guidance/latest/strategy-migration/overview.html
Assess Phase
In the first Assess phase (and in Mobilize), Trace3 specializes in Cloud Adoption Framework consulting with a 10-pillar approach to ensure your organization is ready to succeed in AWS.
In a recent Cloud Adoption Framework (CAF) project for a Healthcare client, Trace3 built alignment within leadership and facilitated the creation of a Cloud Center of Excellence. The client ramped up from this initial CAF engagement to roll out strategic initiatives in Cloud security, app rationalization, and migration, with successful outcomes. One particularly successful follow-on client Cloud initiative centered around identity is helping this organization transform and adopt best practices.
We believe it is critical for organizations to build a Cloud Center of Excellence to operate successfully in AWS. This includes defining how your organization handles Governance, Risk, and Compliance, in addition to the other AWS Cloud Adoption Framework areas.
During this phase, Trace3 delivers sessions on applying the AWS Well-Architected Framework concepts to your environment. As an AWS Well-Architected Partner Program member, Trace3 guides and educates your teams on how to adopt and apply best practices across all aspects of using the AWS Cloud.
In addition to the basic Well-Architected Review, Trace3 specializes in:
in-depth architectural assessment of applications
code review
AWS architecture
app security and DevSecOps
dependencies
performance optimization
cost optimization
focused app lifecycle (SDLC)
This engagement creates a document of prioritized recommendations and an optional roadmap to address areas that align with your organization's timeline.
Beyond delivering secure architecture assessments, Trace3 has created highly successful customized app assessment/rationalization programs, processes, documentation, and models. This approach considers your priorities, security framework(s), and can map to your existing teams and workflows for rapid adoption. This combined consulting and delivery approach lets Trace3 assist clients of all sizes – those clients who have a few critical apps to those clients who have tens of thousands of tier-0 apps across their organization.
Coming soon, in part two, we will explore Mobilization, Migration and Modernization.
---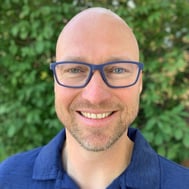 Darren Patterson has extensive experience in public Cloud with a focus on operationalization, security, and DevOps. With over 20 years in IT across multiple industries, an MBA and CISSP, Darren has broad experience leading strategic Cloud initiatives.

Throughout his career, Darren has specialized in architecting, building, securing, and supporting production cloud environments in AWS, Azure, and GCP. He has a passion for building sustainable cloud operations.

Darren grew up in California with a love for hiking, backpacking, climbing, snowboarding, camping and fishing in the Sierras. He studied Computer Science in undergrad at San Jose State University, and completed his MBA at the University of Denver in 2014. Between spending time with his wife and three kids, he has been exploring fly fishing, camping and snowboarding in the Rockies.