FinOps X Conference Takeaways and FOCUS Debut
By Brittany Hammell | Senior Cloud FinOps Consultant, Trace3 Cloud Solutions
& Sarah Stone | Senior Cloud FinOps Consultant, Trace3 Cloud Solutions
In previous Cloud FinOps blog posts, we shared keys takeaways from FinOps events. This year, the FinOps Foundation hosted their second annual FinOps X Conference in San Diego. The conference focuses on community, collaboration, education, and the development of resources to support individuals and organizations in managing their cloud financial operations.
With the cloud becoming the backbone of modern enterprises, FinOps has evolved into an indispensable practice. The conference discussed how businesses of all sizes and industries can leverage FinOps to strike a balance between innovation and cost control, a challenge we have seen with more and more companies as they begin to utilize multi-cloud environments to accommodate their business needs. Adopting FinOps principles helps organizations streamline processes, reduce waste, and enhance collaboration between finance and technology teams.
We went into town for all the festivities, we actually had a third person scheduled to go, but they never made it due to the crazy airline backups in the Northeast. The next few blog posts will showcase highlights from the conference and what to watch for next. In this post, we'll cover a newly released project called FOCUS by the FinOps Foundation to simplify and streamline the billing data across the major cloud providers, SaaS providers, and independent software vendors (ISVs).
FOCUS - FinOps Open Cost & Usage Specifications
The centerpiece of the conference was the official introduction of FOCUS, an initiative developed collaboratively by leading cloud service providers, SaaS providers, enterprises, and FinOps practitioners. FOCUS aims to standardize cost allocation, usage data, and tagging practices, enabling seamless integration across various platforms giving a single pane of spend associated with applications and service in the cloud. This standard is in draft format and will evolve as the development of FOCUS progresses.
To date, there has been no standard on how to report against cost data and it has caused great confusion in normalizing data across platforms and being able to properly report in a single view. FOCUS aims to improve this issue over time as the standard is finalized and vendors/providers start to implement it. Ultimately, this will help make the FinOps processes throughout the industry operate more efficiently and effectively.
Below is a high-level diagram of how FOCUS is being designed: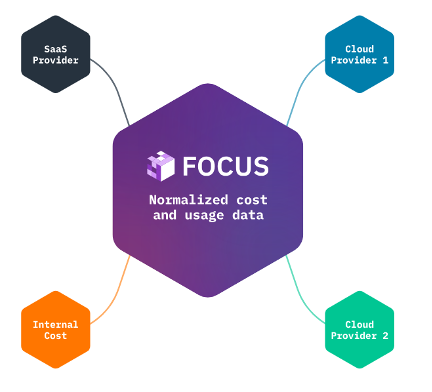 FinOps Open Cost & Usage Specification by FinOps Foundation
These are the key objectives of the FOCUS project and how success will be measured:
Standardization: FOCUS establishes a common language for cost and usage data, removing ambiguity and making it easier for organizations to compare cloud costs across providers.

Cost Allocation Best Practices: The specifications provide guidelines for accurate cost allocation, ensuring that expenses are attributed to the appropriate teams, projects, or business units.

Enhanced Visibility: With FOCUS, companies gain unparalleled visibility into their cloud spending, enabling them to make data-driven decisions for optimizing costs effectively.

Interoperability: FOCUS fosters interoperability between cloud providers, promoting competition and flexibility while avoiding vendor lock-in. Allowing companies to continue to move to the cloud without the upfront burden of learning new terminology.
While FOCUS holds great promise, the conference also discussed some potential challenges. These challenges include getting teams trained up, implementing FOCUS across various cloud/SaaS platforms, and addressing unique use cases for different industries as it may require careful planning and coordination. However, the consensus was that FOCUS is a step in the right direction for the FinOps community.
Bottom line is that the FinOps X conference proved to be an enlightening experience, showcasing the immense potential of the FinOps framework in optimizing cloud costs. The introduction of FOCUS was a major highlight of the event, and we look forward to continuous updates. Tune in for our next blog for even more details on the great content from FinOps X.
To learn more about Trace3 Cloud FinOps, click here.
---
Brittany Hammell is a Senior Cloud FinOps Consultant at Trace3, whose mathematical background fuels her love for problem solving and driving resolutions for clients. Brittany has a passion for customer service and has gained vast experience with enterprise level customers over her 3 years at Trace3. Her focus is on supporting organizations in their FinOps journey, acting as an extension of their team and guiding them to mature their FinOps capabilities.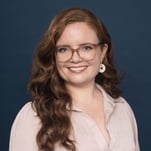 Sarah Stone joined the FinOps team in September 2020 and led the group in building out the customer success program to ensure continuous engagement across the customer portfolio. Sarah focuses on aligning customer requirements to FinOps Services by understanding the unique priorities and goals of each organization and their team. She strives to deliver an outstanding customer experience across all interactions, from presales and onboarding through long-term retention, ensuring a partnership at all stages of the customer journey.